"BOOK LAUNCH – Hebrew version of the"Autobiography of a Yogi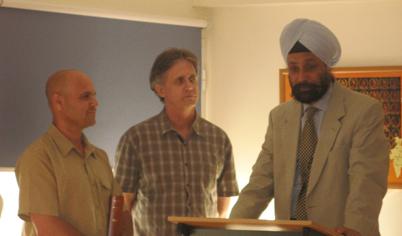 The Embassy of India in Tel Aviv hosted a function on September 15 2009 to launch the Hebrew version of one of the most famous books on Yoga – "Autobiography of a Yogi" by Yogananda. Paramhansa Yogananda's work relates his life story, his search for truth, his understanding of the science and philosophy of yoga, and his beliefs in the unifying aspects of Eastern and Western religions.
Ambassador appreciated efforts for promoting better understanding and respect for each other's culture and traditions. Dr. Udi Bilu and Mr. Ronen Kats, who translated this famous work of Indian philosophy into Hebrew, expressed the hope that the book would satisfy the urge among many Israelis to know more about India's rich philosophical and cultural heritage. Dr. Udi Bilu and Mr. Ronen Kats and their Brighu Yoga friends in Israel, who are students of Dr. Brahama Gopal Bahaduri from Varanasi, are devoted followers of the doctrine of Brighu Yoga and are practicing the same in academia and in selected units of the IDF. They have previously also published Hebrew version of the works of Swami Vivekananda and his teacher Ramakrishna Paramhansa. The event was followed by screening of a documentary film on "River Ganga".